Friday, April 13, 2007
Remembering Earl Neal Creque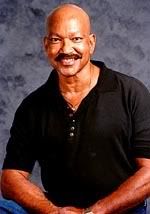 The final months of the year 2000 were devastating for the West Indian side my family. In October I lost my mother while in December I lost the last two of my uncles on my mother's side of the family: Marvin and Neal. Uncle Neal passed away around
December 1
and it is him I want to
remember
on this day.
My uncle was born Earl Neal Creque on April 13, 1940, in St. Thomas, Virgin Islands, the last of eight children born to my grandfather (
Cyril Creque
) and grandmother (Leonie Sewer). He began taking piano lessons at age five and from around nine to sixteen years of age he studied classical piano with
Edris Stakemann
. Since there are biographical sketches of Neal that can be accessed on-line, I will not reproduce here what is already available. I just want to add that my Uncle Neal was a prolific composer, having composed over 3,000 compositions (not all of them Jazz), and a teacher, having been on the faculty of the Oberlin Conservatory of Music and Cleveland State University. Although he didn't leave an extensive legacy of commercial recordings, his compositions have been widely appreciated (and recorded) by top-caliber musicians that knew him, from
Mongo Santamaria
to
Ramsey Lewis
and
Carmen McRae
, among many others.
I am sincere when I say that Uncle Neal is my favorite musician. I would say so even if he were no relative of mine. The fact that he was related to me was a source of immense pride and joy beyond description. I cherish the tapes and videos he diligently sent us over the years and preserve the sheet music of the classical pieces he composed late in his career, copies of which he had sent my mother. In addition to being a composer of note, he had "chops" as they say. To dispel any doubts about his "chops" as a pianist, check out his solo commencing at 3:42 on Leon Thomas's interpretation of
Cousin Mary
. As a tribute, below is a video of Uncle Neal and Howie Smith playing Neal's composition Slightly Monkish. I have a particular love for this piece because, aside from being a tribute to the all-time great Jazz icon (and favorite of mine!)
Thelonious Monk
, it has the calypso feel of our West Indian heritage in the Virgin Islands.