Wednesday, March 11, 2009
Remembering Freddie Thomas
I am deeply saddened to learn of the passing of musician Fred Thomas, who I got to know when I had the privilege of teaching at the University of the Virgin Islands' St. Croix campus for two years. He was a wonderful bassist and could play the piano professionally as well. He was known to my uncles
Marvin and Neal
, and joins them in that pantheon of jazz musicians in the sky. Of particular fascination to me was the fact that Freddie had played bass with the original band of Puerto Rican icon
Rafael Cortijo
. Before I left St. Croix to return to Puerto Rico, he gave me these copies of photographs of Cortijo y su Combo. In this first one, you can see Uncle Freddie at the far left with his characteristic lit cigarette in his right hand.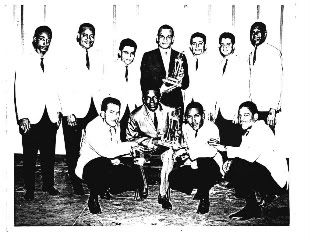 In the next photo (below) you can see Freddie in the front row with the legendary Sonero
Ismael Rivera's
right hand on his right shoulder and Maestro Cortijo's right hand on Freddie's left shoulder.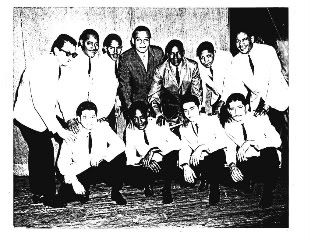 Finally you have the band with a number of other musicians and singers. I would be grateful to anybody out there that could help me identify them individually.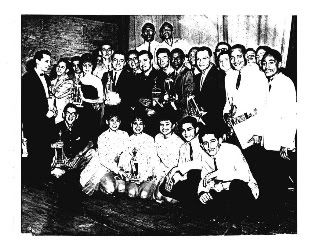 The last picture is of a Jazz quintet which belonged to renown drummer
Monchito Muñoz
. Legendary trumpeter Juancito Torres was on trumpet and of course Uncle Freddie played the bass. I wish I could have heard them play if even on a recording. Juancito could really hit those high notes, almost like Dizzy Gillespie.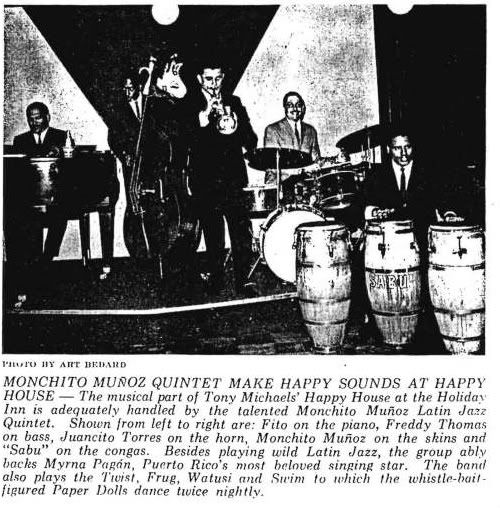 When in St. Croix, I always went to see Freddie play at the Blue Moon in Fredriksted. He was ailing then and despite suffering from emphysema, he continued to smoke. Maybe I was imagining things, but he always seemed to perk up when I arrived and would then proceed to play his heart out. I gave him my electric keyboard when I left, cognisant of the fact that he didn't have much more time to live. Rest In Peace Uncle Freddie. I know you're up there playing a mambo for St. Peter.
Labels: Caribbean, Jazz, Music, Salsa